South Australia The government has announced that the proposed new Women's and Children's Hospital (WCH) will now be built in Thebarton on the site of the current police barracks, 600m from its originally proposed location, next to the Royal Hospital Adelaide.
Following the state's election, the new government commissioned a review of the previously planned site and found significant constraints.
Proponents of the old site said the colocation would "maximize the potential of both hospitals" and ease the transition of adolescents to adult facilities.
However, South African Prime Minister Peter Malinaukas said that if the new WCH were to be built next to the RAH, it would prevent future development of the two facilities.
"At some point in the coming decades, the RAH will need to be expanded […] With a growing and aging population, this is a possibility that needs to be considered," Malinaukas said. "If we build the new WCH right next to the RAH, we can never, ever expand the RAH or the WCH."
The same design team, comprising Woods Bagot with Bates Smart, Jacobs and UK firm BDP, prepared concept designs for the new site, which is 20,000 square meters larger than the old one. The new proposal includes an on-site helipad for more efficient relocations, an intensive care unit, capacity for a cardiac surgery department, direct access to the park and 85 additional parking lots.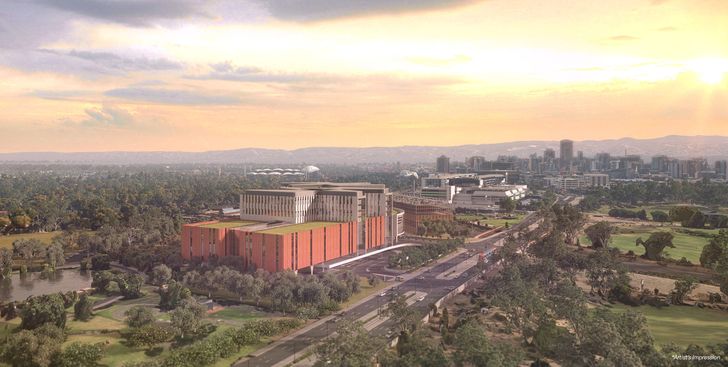 Ten heritage-listed buildings on the site will be demolished to make way for the new facility, some of which date back to 1917, raising concerns from the South Australian Heritage Council.
In his editorial for In Daily, Heritage Council Chairman Keith Conlon argued that razing the compound would result in an unprecedented loss to the state's history and heritage protection legislation.
"They will destroy a collection of buildings that have been listed as state heritage sites because they gave us a tangible connection to a crucial part of our past and how we got here," Conlon said.
The new proposal will displace the South Australian Police (SAPOL) who have occupied the site for 105 years. The state government committed $2 million to help relocate its existing functions, saying there would be no loss of operational capacity as a result of the move.
Police Commissioner Grant Stevens said the news creates "a unique opportunity for SAPOL to review its operational needs and work with affected personnel, stakeholders and government to acquire modern and responsive facilities that will meet organizational needs. long-term".
The project is estimated at $3.2 billion and is expected to be completed by 2030-31. The first works should start in 2023 before the start of construction in early 2024.